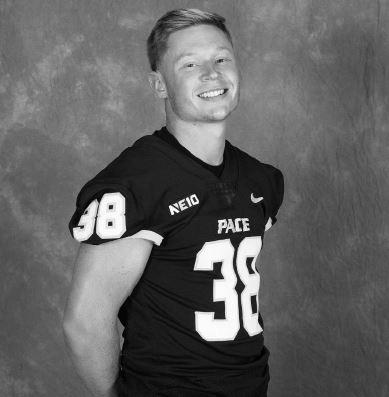 Phone:
Email:
Degrees and Certifications:
Pat Davis ~ Class of 2016

I would first like to thank Skip Peters for the honor of being chosen to tell my story. My name is Pat Davis. I'm a 2016 graduate of Lacey Township High School. While in high school, I was a varsity letterman in football and lacrosse. Serving as the kicker for the varsity for three years. After high school, I went to play football at Pace University, where I was fortunate enough to get a scholarship. I was the starting kicker at Pace all four years where I received a bachelor's degree in Criminal Justice and minors in Homeland Security and Political Science.

My football career at Pace was a success in my thoughts due to the upbringing Lacey football taught me, thanks to Coach Lou Vircillo and staff. Prior to graduating from Pace in 2020, I started working for Berkeley Township Police Department, where I worked for the summer and a SLEO 1. After that summer, I was fortunate to be sent to Ocean County Police Academy, where I graduated in April of 2021. Since then, I have been working for Berkeley Township Police Department as a SLEO 2 Police Officer.

I like to think that my work ethic is what was taught to me from sports. This is both football and lacrosse. Lacey Township High School has definitely molded me into the person I am today, again from my coaches to my teachers. Furthermore, I would like to end by thanking Skip again for the opportunity to tell my story.