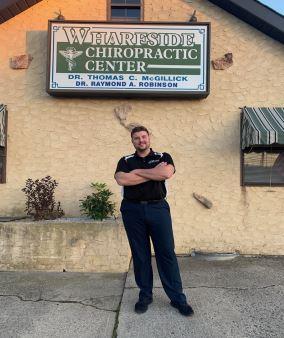 Phone:
Email:
Degrees and Certifications:
Raymond Robinson ~ Class of 2010

Raymond Robinson, known to many in town as Dr. Ray, graduated from Lacey in 2010. He was an active student who was most proud of being on a winning bowling team at LTHS, where he served as captain. After graduating Lacey, he attended OCC, obtaining his Associates Degree while trying to figure out what his end goal should be. While attending OCC, he became interested in the medical field, so he switched his concentration to science and obtained his Associates of Science degree in 2013. He moved to St. Louis, Missouri and attended Logan University.

There he took his first steps towards becoming a chiropractic physician. He completed his Bachelors of Science in Human Biology in 2016 and continued his education, obtaining his doctorate in 2018. That's when he officially became "Dr. Raymond Robinson". He married his high school sweetheart in 2010 and in his words, "my best friend and still my closest support system today".

He came back home to Lacey to practice where he is presenting, working with Dr. Tom McGillick at Wharfside Chiropractic on Rt. 9 in Forked River. It's always nice when they come back home.