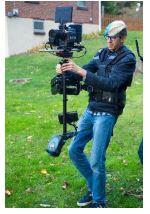 Phone:
Email:
Degrees and Certifications:
Andrew Di Angelis ~ Class of 2013

Unlike most of his peers, Andy began his engagement with Lacey Township High School while he was still in eighth grade when he joined the Marching Lions Marching Band. Since then, the band room, choir room, and auditorium of E-hall quickly became his home away from home. Between the marching band, concert band, jazz band, pep band, choir, and lighting crew for the drama club, Andy was in practically every performing arts club LTHS offered, and the "late bus" became his usual ride home. After two years of exclusive performing arts extracurriculars, Andy was finally - and thankfully - pressured into taking Mr. Muermann's Telecommunications class his junior year.

Many of Andy's friends will tell you that it was about time, considering he tried to make every class project into a video project. If this spotlight was to be analyzed in a screenwriting 101 class, jumping into the world of video production would be the "inciting incident" that directs the course for the rest of the story. After a senior year filled with being student leader of the most successful competitive marching band season Lacey has seen, designing the lights for the spring musical, How To Succeed In Business, organizing and MCing the very first LTHS film festival, and also running the tech and lighting for practically every event in the school's auditorium, Andy went off to
DeSales University in Center Valley, Pennsylvania to study film production and a minor in technical theater.

At Desales, Andy worked on the productions of more than fifty student films, usually as a lighting gaffer or grip. He was also on the team of producers who organized the school's annual film festival. In the theater, he worked as master electrician for multiple productions between the university's main stage and blackbox theaters. Perhaps some of the most important parts of Andy's story took place during the summer of his junior year at DeSales. That summer, thanks to a connection he made with a DeSales alumni, he took up an internship at Advanced Staging Production in West Chester, PA.

The company worked in the live event industry, producing the audio, video, and lighting components to live events for institutions like AstraZeneca, Tech Crunch, Mars-Wrigley, Columbia University, The College of New Jersey, and many more.

While Andy was offering a hand in their warehouse learning the ins and outs of the live events industry from some of the best, he was also working with his old high school classmates, Steven Krawiec (class of 2013) and Winter Rose Barney (class of 2016) as well as his prior teacher, Jeremy Muermann, to produce a documentary film showcasing the history of Lacey Township through stories told by locals. The project was a massive success, drawing a crowd of hundreds of Lacey residents to the beach of Deerhead Lake for an outdoor movie premiere of Legends of Lacey Township: A Tour Through Time. After a long summer of late nights editing in front of Premiere Pro and driving the 4 hours between Lacey and West Chester, Andy went back to DeSales for his senior year. After a fourth year at university comprised of helping create a completely student-run children's theater production of Peter Pan, leading the production of that year's Film Festival featuring guest judge Steve Burns (of Blue's Clues fame), and working as cinematographer for his friend Claire Bamert's senior thesis film Senses, Andy received a job offer to be a lighting technician at Advanced Staging Productions.

Eager to get right to work, Andy barely took two weeks off between getting his Bachelor's degree and jumping straight into the workforce. With Advanced Staging, he often found himself flying across the country to work in cities ranging from Orlando, to San Francisco, Dallas, Las Vegas, and many more, helping his team set up the lighting for some incredibly intricate corporate events. Thanks to his background in videography, when the COVID-19 pandemic hit in March of 2020, he was quickly pivoted in the company from lighting technician to full-time video editor.

He is now poised to be the lead of Advanced Staging's burgeoning video production department while also continuing to work with his friends Steven, Winter Rose, and Jeremy (collectively known as WhatKeyProductions) on their follow-up documentary Nuclear Shutdown, which focuses on the closure of Lacey's Oyster Creek Nuclear Power Generation Station. Andy certainly would not be where he was today if it hadn't been for the opportunities he had at LTHS and all the time he spent in the lighting booth of the school's auditorium as well as possibly never leaving the editing suites of the TV studio.

If you're interested in checking out the history documentary, Legends of Lacey Township, you can find it on Vimeo at https://vimeo.com/230087239 .